I have this very strong belief, that a more luminescent reality lies upon the one we normally see. And a glimpse of that reality is kept in every one of my paintings....
Biography
I live and work in Bistrita, Romania, I am a self tought artist and you are now visiting my official website. 
In my art practice I mainly use two very special techniques: the ancient technique of reverse glass painting and cyanotype, the alternative photography. 
I love glass because it has its own life, and, in a subtle way, it takes you inside the old time lores. The metal leaf, the ink and the oil colours, mixed up with bronze, complete the sense of time, past and present together, as if each work opens a secret gate to another life...
When painting on the back of the glass, the first element painted is the first seen on the other side. In the begining I normally make a drawing on paper. I need the drawing to support my imagination, but, when drawing, I "see" all the picture I am going to paint, from the beginning to the end. Of course things may change during the process (they often do), but the general feeling, the emotion that inspired me, remains.
My glass works have bee exhibited in galleries and art fairs, both in Romania (Bucharest, Iasi, Cluj-Napoca, Brasov, Bistrita) and abroad (UK, US, India, Qatar, Itally, Portugal, Germany,, etc). Some of my glass works are part of private collections all over the world.
Recently I've discovered another fascinating technique: cyanotype.
I found cyanotype unexpectedly. In fact I can say that cyanotype found me, and it was love at first sight.
This magical technique of working with plants, with the sun, wind, and water, with all that elements that are ephemeral and eternal in the same time, fascinated me and made me introduce cyanotype in my current artistic practice.
Invented in 1842 by Sir John Herschel, cyanotype is a specific process that requires a natural material, commonly fabric or paper, to be coated in photosensitive solution – usually a combination of ferric ammonium citrate and potassium ferricyanide. This results in blue mono-tonal reproductions of the photographic negative, commonly called a blueprint.
The cyanotype originated as a popular form of photographic reproduction due to its inexpensiveness and accuracy, making it useful for architectural and scientific purposes
Anna Atkins was the first to experiment cyanotype for other purposes. She created a series of cyanotype limited-edition books that documented ferns and other plant life from her extensive seaweed collection, placing specimens directly onto coated paper and allowing the action of light to create a silhouette effect. By using this photogram process, Anna Atkins is sometimes considered the first female photographer.
I do hope you will enjoy my art!
Education
2011-2014

Art School / Painting Class Bistrita, Bistrița-Năsăud, Romania
1979-1984

Politechnic Institute Bucuresti – Automation Engineering Bucharest, Bucharest, Romania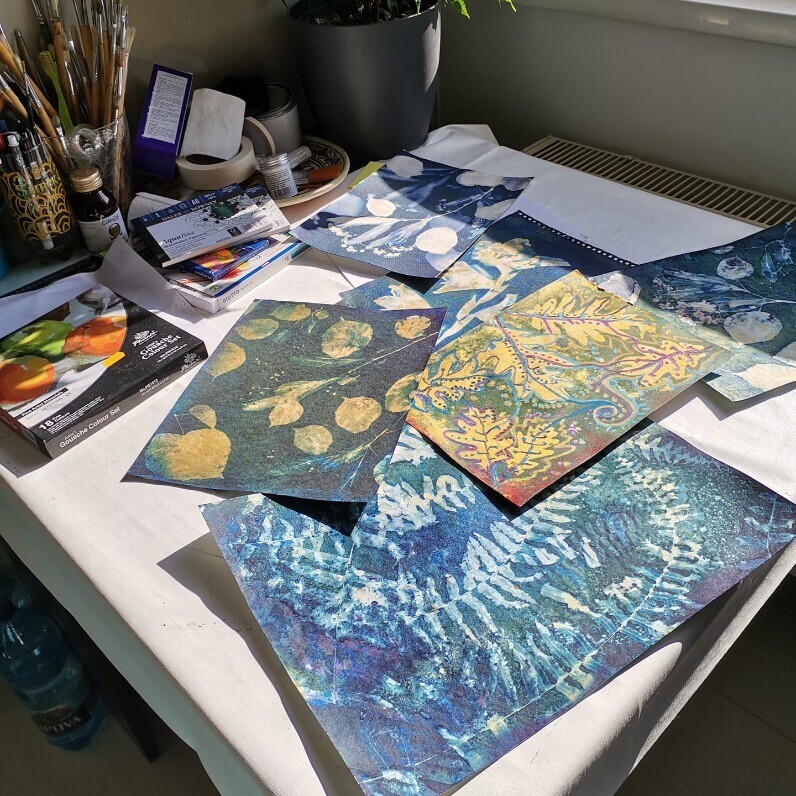 The artist at work
Prizes and Awards
---
2012 Finalist at Carpet Vista Design Competition Stockholm, Sweden
Solo Expositions
---
2020 "Walking Between Worlds" – Cluj Art Gallery Cluj-Napoca, Romania Cluj Napoca, Cluj, Romania
2018 Solo exhibition "The Book of Love" - Steiner Gallery Vienna Vienna, Austria
2016 personal glass exhibiton hosted by "The Municipal Cultural Center" Bistrita Bistrita, Bistrița-Năsăud, Romania
2016 Elite Prof Art Bucharest – personal glass painting exhibition Bucharest, Romania
2014 personal exhibition "Glass Painting" – Hungarian House Bistrita Bistrita, Bistrița-Năsăud, Romania
Collective Expositions
---
2022 Friendship – Group exhibition / School of Fine Arts Gallery / IPS Academy, Indore – India Indore, India
2022 Group Exhibition "Alternative processes" (cyanotype|) – A Smith Gallery, Texas / U|S Johnson, Tx, United States
2022 Group exhibition "Art on Screen" (cyanotype) – Big Screen Plaza New York / US New York, NY, United States
2022 Fall 2022 Exhibition (cyanotype)– Big Screen Plaza New York / United States New York, NY, United States
2021 Festival Fusion Arts Fair / Noblesse Palace, Bucharest, Romania Bucharest, Romania
2021 Blue Biennale – Essentia / Brasov Romania Brasov, BV, Romania
2021 Qatar International Art Festival – DOHA, QATAR Doha, Qatar
2020 International Surrealism Now – Coimbra Centro de Artes, Portugal Coimbra, Portugal
2020 BIENNALE MOOVART – Franco Zeffirelli Foundation, Florence, Italy Florence, Italy
2019 Esperienze Creative / group exhibition – Merlino Gallery – Florence, Italy Florence, Italy
2019 Art Biennale / Hronicon – Brasov, Romania Brasov, Romania
2019 ARTA R group exhibition - Romanian National Library, Bucharest, Romania Bucharest, Romania
2018 Iart Gallery - Iasi National Library Iasi, Iasi, Romania
2018 Group exhibition (The Sweet Territory of Silence) / Atelier Art C14 Gallery, Bistrita Bistrita, Bistrița-Năsăud, Romania
2017 Carol Galleries Bucharest – Group exhibition Bucharest, Romania
2017 Cultural Municipal Center "Jean Louis Calderon" Bucharest Bucharest, Romania
2015 Parallax Art Fair – London London, United Kingdom
2014 Elite Prof Art Gallery Bucuresti – group exhibition "Colours Simphony Retrospective" Bucharest, Romania
2014 Elite Prof Art Gallery / Crawne Plaza Hotel Bucuresti – group exhibition "Estival" Bucharest, Romania
2013 "The Story of the Creative" project, group exhibiton – See Me, Long Island NY New York, NY, United States
2013 Took part. in "Art surprise" project (www.arsurprise.eu), with 100 miniatures painted on glass Munchen, Germany
2012 Parallax Art Fair – London London, United Kingdom
2012 Colorida Art Gallery – Lisabona / group exhibition Lisabona, Portugal